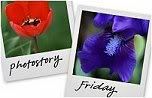 Hosted by Cecily and MamaGeek


I don't know how many of you watch Top Chef, but in Season 2 or 3,

My cousin, Frank (also known as Frankie the Bull)

was on the show!

My Mama and his Papa are brother and sister...

So after the show... like a good relative, I called his butt up and

asked him to do a food demo for my Pampered Chef downline and some crossline

consultants.

We had people coming out of the woodwork... and it was a great evening!

He ended up staying the night and he, Bill and I had the BEST time talking

and laughing about when we were little and some of the fun times we had...
So here he is... Frankie Joe, as we all know him.
He was the one that threw Marcel's stuff across the room. He gaves us all the inside scoop about that... and Marcel TOTALLY deserved it. Of course, the editors never tell the full story...
My two youngest, Johnny was Franks Asst. Chef
And he let him go up on stage with him! He made two INCREDIBLE dishes in minutes, and then took questions from his audience of 100 people. He has a book out, and is also featured in the Top Chef cookbook. I am so proud of him, and I just want him to know I hope he returns from Nigeria soon, we all miss him. He is right up there, for me, like my other cousin Lorenzo. Even before he became a big bad celebrity!