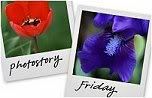 Hosted by Cecily and MamaGeek
It's Photo Story Friday... and I thought I would show you my view from carpool every day.
Well, not every day... the mountains don't have snow on them all the time...
Oh... You know what I mean!
Ya gotta love a snowcapped mountain and a palm tree in the same picture.
So Cal is the only place you can surf and snow ski in the same day!
That's our story... and we're stickin' to it!
I live about 30 minutes from this one. That cloud looks ominous... doesn't it? I took this one the same day as the other... just at Will's Soccer game.