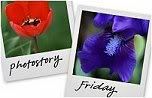 Hosted by Cecily and MamaGeek
My Papa and my men.
Will sprained his ankle last night at his soccer game.
Tryouts for baseball are tomorrow, and he can't tryout now...
So we don't know if he'll make the team this year.
Pray they show mercy and allow him to try out when his ankle feels better in a few days.
It is a light sprain, and isn't very swollen, but he is on crutches.... so...
Happy Friday!