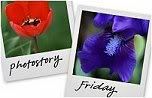 Hosted by Cecily and MamaGeek
No, Bill is not carrying a purse... it's my camera case... he wanted me to make sure and tell you that... he's such a manly man... Sheesh!
I love this pic of my men walking away. I just plain ol do.
This is one of my Scrapblog pages I just did. There is a gorgeous bronze statue of Mahatma Ghandi at the Mission Inn, and his words are engraved into the cement surrounding the statue,
So I told the kids to place their hands around the powerful words so they will not only remember what they say... but maybe, just maybe, their meaning will be absorbed into their hands.
Happy Friday!
The Holidays are OVER!!!!!
Yipeeeeee!