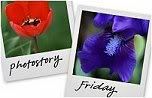 Hosted by Cecily and MamaGeek
Rec. Soccer is over... and now it's time for School Soccer.
Johnny and Alex are on two separate teams at school.
And they each have away games on the same day!
How am I going to split myself into threes? (Will has games on the same days, for his school)
Ahh. Motherhood.
NOW I understand the need for some people to practice polygamy.
Oops... yep, I just said that out loud!
For a laugh...people... for a laugh...
Any takers on being a sister wife? Without the fringe benefits of actually
sleeping with the hubby... just watch the kids games and cook dinner.
Oh wait... that's a nanny... hmmmm.
Nah...
Up close and personal.
Johnny had never met a comb he liked.
This one is trying to either impersonate Dinero or Nicholson. Yes, that is red spray stuff in his hair. Some "cool" Mama on the team decided it would be "fun" to spray red dye into the kid's hair... without asking permission of course, and this was his way of telling me he got away with having color in his hair. Whatev!